What Makes a Trained Leader?
A Scout leader is considered fully trained and entitled to wear the Trained Leader emblem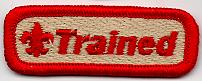 when he or she has completed basic training courses for the current registered position.
Many courses are available through the E-Learning Center, accessed by signing in to MyScouting.org.  If you are new to MyScouting, you will be asked to create an account, which requires your BSA registration number in order to be linked to your registration records.
Basic training requirements for every position can be found at 
---
    Training Calendar